♥ ♥ --- A P P L I C A T I O N --- ♥ ♥


Name:

Molly


Age:

17


PROVINCE:

Ontarrrrriiiioooo


Favorite Activity:

Visiting Delapitated buildings (aka the Don Valley Brickworks), Random walking


Best Article of Clothing:

My "Kids, say no to drugs and yes to hugs!" shirt


Compliment the mods:

Im so glad someone made a community to be amusing rather than am i hot????


Do you laugh every day?:

God yes. Did You know, the average person only laughs 15 times a day?! I feel sorry for them. The best Kinda laughter is when it starts to hurt all over.


Have you ever done anything silly in public?:

I enjoy pointing at the sky and waiting for people to look up, I walked thru the fountains at a Square near my house and my friends made it into the newspaper for it, picnics (may not be silly, but you do get looks), striped tights....again with the looks, talking to strangers, trying on funny clothing, dressing up, watching the nerdiest movies possible - Spiceworld, aqua diaries, and casper (in french) with the boyfriend, drunken rambles about boy george.


If so, what?:

read above pleasssse


Favorite Song:

Ack, i like way to many... Radio - Alkaline Trio, Carrickfergus - Van Morrison, Heartshaped box-Nirvana (to name a few)


Favorite CD:

if not mixed ones, than probably Smashing Pumpkins Greatest Hits


Give 3 silly suggestions for our interest list:

Making a scene, Helium Balloons, Talking to strangers (may not be tooo silly, but super fun and a good way to make friends)


Favorite color:

Red/Pink/Orange


If you could change the color of the sky, what color would you choose?:

The pink colour it is at sunset, its dreadfully beautiful


Do you have any siblings?:

Indeed, I have two sisters


Single?:

Nope =)


3 Favorite Movies:

Zoolander, Dangerous Lives of Altar boys, Eternal Sunshine of the Spotless mind


Name something that everyone says about you:

Hyper


Is smartwater delicious?:

I really wouldnt know


Promote us to at least 2 places, and show us links: http://www.livejournal.com/community/1_2_3_rate_me_/114995.html
and
http://www.livejournal.com/community/x__cutest/38232.html
Why do you want to join totally_silly?:

I'm in too many rating communities, this should be delightfully refreshing


Post at least 3 clear pictures of yourself, 2 of which should be SILLY! :-D!!! :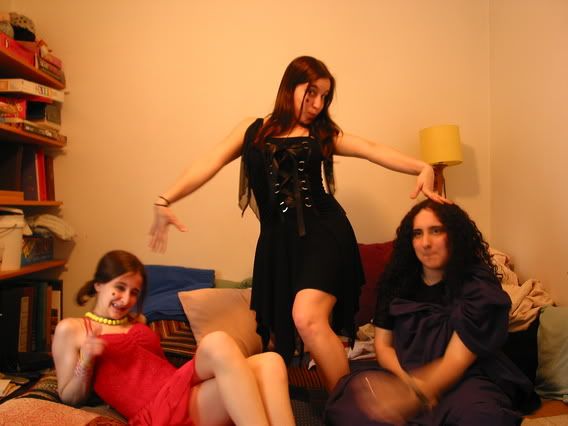 That is my friend Amy, Me, and My friend Sarah.
Sarah is wearing a Toga.



This is me, and Amy trying to suprise our World Issues and ERM teacher, but my camera was stupid and we just told him to look suprised.

</b></a>